Milk can label diary
Posted on March by Jon Isaak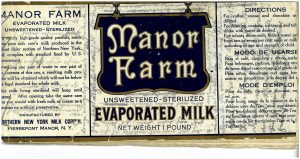 This is a page from Anna Baerg's 1922 diary written on milk can labels.
A hundred years ago, MCC sent relief aid, including food, to Ukraine during the time of the Russian Revolution and civil war. It was the reason MCC was organized: to bring North American relief aid to those suffering in Ukraine.
A young woman by the name of Anna Baerg wrote her diary on the only paper she could find, repurposing the fronts and backs of milk can labels (several hundred) to write her experience of the wartime conflict in Ukraine.
CMBS has these labels in its collection (https://cmbs.mennonitebrethren.ca/personal_papers/baerg-anna-1897-1972-2/). And they have been translated into English and published as a book (https://www.commonword.ca/ResourceView/82/1180).
The milk can label diary is a testament both to the compassion/action of the faith community and the resourcefulness/resilience of individuals like Anna Baerg.
MBBC History Published
Posted on by Jon Isaak