5 Online Research Resources
My COVID-19 adaptation in March and April has been to work from home—writing file descriptions, scanning photos, editing encyclopedia articles, and updating the websites I manage. And I still go to the archives each week. I work alone, so physical distancing at the archives is not difficult; but, yes, CMBS is closed to the public, until further notice.
Since many are spending more time online these COVID days, I have been promoting the many Anabaptist-Mennonite online resources available for historical research; I'm thinking of five in particular. For example, I finished scanning the 112 images in the John M. Schmidt photo collection—he is one of the Mennonite radio broadcasters that David Balzer wrote about in the March 2020 Mennonite Historian, now online at (1) the Mennonite Historian website, www.mennonitehistorian.ca/. And those photographs are now viewable online at (2) the MAID website, https://archives.mhsc.ca/john-m-schmidt-photograph-collection-2.
I also edited a biography of Schmidt for posting to (3) the Global Anabaptist Mennonite Encyclopedia Online (GAMEO) website, https://gameo.org/index.php?title=Schmidt,_John_M._(1918-2008), and updated the file description for Schmidt's personal papers fonds at (4) the CMBS website, http://cmbs.mennonitebrethren.ca/personal_papers/schmidt-john-m-1918-2008/.
And I scanned 16 additional Mennonite history books, uploading them to (5) the Internet Archive website, bringing the total to 96 e-books readable online, https://archive.org/details/@jonisaak.
That makes five different websites—accessible to researchers anywhere with internet service!
Looking for a baptism photo, obituary of a loved one, or a book, magazine article, or church decision on some theological issue—there are online research resources available and people like me who can help you find what you are looking for.
This is usable history, some of the best kind!
1950s Mennonite newspaper now viewable online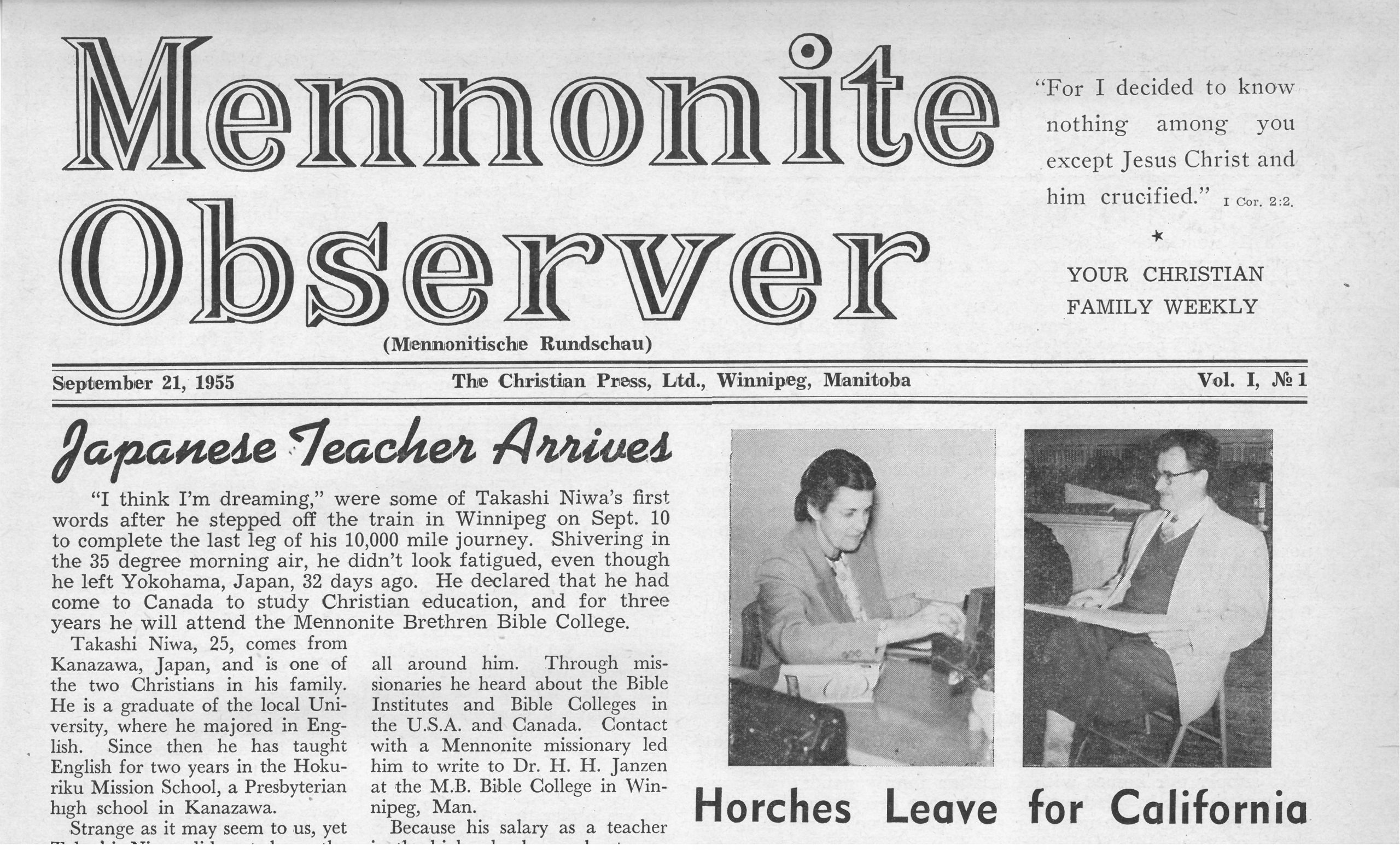 Pictured is an excerpt from the first issue of the Mennonite Observer, published on September 21, 1955. Modeled after Die Mennonitische Rundschau, the weekly Mennonite newspaper ran from 1955 to 1961.
The 12-page Mennonite Observer was published by The Christian Press in Winnipeg, Manitoba. As the language transition from German to English among Mennonites in Canada was intensifying, the English-language Mennonite Observer took the place of the Mennonite Brethren German-language Konferenz-Jugendblatt. Les Stobbe was the first editor of the Mennonite Observer, followed by Gerhard D. Huebert.
According to the masthead, the newspaper aimed "to have Christ at the helm, the salvation of man as its goal, and the essential unity of all true Mennonites as its guiding principle." It was a newspaper with reports from Mennonite high schools and colleges in North America and beyond, missionary updates, congregational news, obituaries, and Bible-based devotional writings. The newspaper was designed to relate to people from a broad range of Mennonite conferences, even though its owners/editors were from the Mennonite Brethren Church.
The publication ceased in December 1961 and the Mennonite Brethren Herald took its place with a new mandate, starting in January 1962. The MB Herald became the official communication organ of the Canadian Conference of Mennonite Brethren Churches, a publication which ran for 58 years; the final edition was printed in January 2020 (see post).
Thanks to the efforts of Susan Huebert (many hours of scanning!), all the issues of the Mennonite Observer are now viewable online. With the author index created by David Perlmutter, the church, mission, school, and community news from this era are now more easily accessible to researchers. For a description of the Mennonite Observer and links to each of the 351 issues, click here.
Discerning women in ministry leadership in the Mennonite Brethren church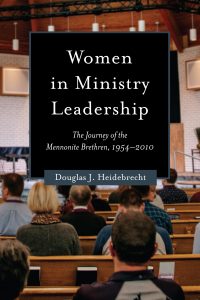 "It's like a detective story; you see all these threads woven together," says Doug Heidebrecht.
Heidebrecht's Women in Ministry Leadership: The Journey of the Mennonite Brethren, 1954–2010 is the story of the denominational conversation regarding women in ministry positions within Canadian and U.S. Mennonite Brethren churches.
Women in Ministry Leadership was launched on May 10, 2019, at Canadian Mennonite University, Winnipeg, with some 45 people in attendance. It is a more popular presentation of Heidebrecht's PhD dissertation, "Contextualizing Community Hermeneutics: Mennonite Brethren and Women in Church Leadership" (University of Wales, 2013).
Since the Mennonite Brethren General Conference gathering in 1999, he has been researching the paths Mennonite Brethren have walked regarding women in leadership roles even as the conference continued move in new directions leading to the 2006 Canadian conference resolution.
"No other issue has received this level of attention by Mennonite Brethren during the second half of the 20th century," Heidebrecht writes.
Women's columns in MB periodicals during the 1960s gave women a public voice in the conference, and became the first avenue for engaging questions regarding women's involvement in the church that were being raised within the larger society. Katie Funk Wiebe, in particular, was significant in calling for change not only through her prolific writing (articles and books), but also in her speaking and teaching ministry.
However, it was the unprecedented "spontaneous attendance" of five women – Irene E. Willems, Betty Willems, Mary Poetker, Kae Neufeld, and Anne Neufeld – as delegates at the 1968 annual Canadian MB convention that opened the door for increasing participation of women in conference gatherings and raised new theological questions for provincial and later national conferences, says Heidebrecht.
Heidebrecht explores three interwoven themes in the book.
What does the Bible say?
How does the church live faithfully in world that is changing?
And how do Mennonite Brethren wrestle together as a community toward the seemingly elusive goal of consensus.
In the course of his research, Heidebrecht had many conversations with key participants in the study conferences and the formation of resolutions. However, the book is based on written materials – board meeting minutes, papers, and published articles.
The focus is not solely on official leaders – Heidebrecht also presents how people in church engaged in this conversation through correspondence and Letters to the Editor from the Mennonite Brethren Herald (Canada) and the Christian Leader (US).
"How do you give voice to the people in the pews?" Heidebrecht says the letters provided an avenue to bring those voices –of both men and women – into the book. He recognizes the sensitive nature of telling a story that is still unfolding where many participants continue to be actively involved in Mennonite Brethren churches and leadership roles.
Though his source materials are in the public record, Heidebrecht's work makes the evidence accessible to readers by telling the story, highlighting the decision-making process, and interpreting the underlying currents all in one place.
"It's a story that needed to be told," says Jon Isaak, secretary of the MB Historical Commission, which commissioned Heidebrecht to update his dissertation research to 2010 and publish the book with Kindred Productions.
Heidebrecht wrote about the Canadian Conference 2006 resolution in a final chapter of the book, a component not included in his dissertation. "Have we remained in 2006?" one participant asked at the book launch. "What gives hope is local churches wrestling with their own convictions," says Heidebrecht.
"This book gives a sense of the story, the push and pull, frustrating and fascinating dimensions," says Isaak.
This article was written by Karla Braun for MB Herald and was posted on May 15, 2019. See https://mbherald.com/wiml-journey/
Anna Janzen Neufeld diaries donated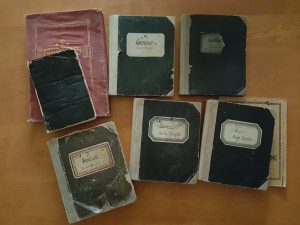 Summer 2018 marked a significant accession at CMBS. Hildegard (Peters) Isaak (b. 1933), granddaughter of Anna (Janzen) Neufeld (1868–1945), donated Anna's original diary/journal books to CMBS (Acc. no. 2018-08). See image showing Anna's diary/journal books.
In addition to the donation of the diaries, transcriber and translator Peter Neudorf (b. 1935) of Vancouver donated digital copies of his German transcriptions and English translations of the family letters and Anna's diary/journal books at the same time.
Peter spent about nine years on the transcription/translation project, starting in 2009. Peter's wife Helga (Peters) Neudorf (1937–2017), another of Anna's granddaughters, edited and proofread Peter's translations until Helga's passing. Grandson Helmut Peters (b. 1935) also helped with translation verification. Hedy (Peters) Pletz (b. 1942) is also a granddaughter. The original family letters remain in the possession of the family.
The donated collection at CMBS includes 30 cm of textual materials: 6 diary/journal books, 1 notebook, 1 friendship autograph book, and 744 pages of transcriptions/translations (i.e., English translations of some 70 letters written by Kornelius A. Neufeld (1869–1917) dated from 1890 to 1917, as well as English translations of Anna's diary/journal books dated 1916 and 1919 to 1925). (See the online description at http://cmbs.mennonitebrethren.ca/personal_papers/neufeld-anna-janzen-1868-1945/.)
Through letters and journal entries, the collection documents well the life of a Mennonite factory family as they experience loss due to the Russian Revolution and First World War, emigration from Ukraine, eventual liquidation of their assets, and the challenges of starting life over in a new country.
Anna Janzen was the daughter of industrialist Jacob Wilhelm Janzen (1845–1917) and Helena Unrau (1847–1917). Anna was born in Andreasfeld, Chortitza, on June 23, 1868. She married Kornelius Neufeld on June 26, 1891, in Serjejewka, Fuerstenland. They had eight children, two of whom died in infancy. Kornelius Neufeld was the son of Abram A. Neufeld (1820–1876) and Helena Unrau (1834–1898). Kornelius was born on May 26, 1869, at the Neustaedter Estate, located between Einlage and Ekaterinoslav, where his father Abram worked as a miller. His father died in 1876 of diabetes in Steinfeld Schlactin, a new farming settlement to which they had moved. Their 135-acre farm was sold for 50 rubles and the family sent back to where they had come from. Some years later, in 1889, Kornelius's older brother Herman took him to Serjejewka, Fuerstenland, where Kornelius started to work in the Janzen-Klassen farm implement foundry. In 1891, he married the Janzens' daughter Anna and was eventually promoted to management of the factory. After the Janzen-Klassen partnership broke up, Kornelius and his father-in-law formed a new foundry and machine shop.
About his translations, Peter writes, "I began the translation project with about 70 letters, the first one written by Kornelius in 1890 to his brother Herman in Nikolayevka. Starting in 1916, his wife, Anna Janzen, kept a diary, writing almost daily. She produced eight journal books in total; two were destroyed. For the first diary (321 pages) and the letters, I transcribed the text from Gothic script to English script and then translated the transcription into English. Eventually, I translated directly from Gothic to English. I started the project in 2009 and sent the first letter translations for the family—Helga's siblings—to read on December 28, 2009, and the last one on August 11, 2018.
"Having been a technician with IBM for over 30 years, the word can't was rarely in my vocabulary. On occasion, I would spend up to three days on a particularly difficult word, that is, a couple of hours a day, and then I typically came up with an English translation. Some Ukrainian words I could not transpose and I left them as Ukrainian. I want to give credit to my wife, who, as long as she was able, proofread and corrected my grammar. I thank Helmut Peters, her brother, for taking over after her passing.
"Anna's diary accounts give evidence of enjoying incredible wealth and then of experiencing the total loss of everything following the Russian Revolution. There is the narration of her husband's appendicitis operations and ultimate death in 1917. The family, minus father, managed to flee to Germany on November 23, 1918, from their large home on the factory compound, travelling by train with the retreating German soldiers following the end of the First World War. Then there is her daughter's death—also of appendicitis—after needing to be left in Halifax as they immigrated to Canada in January 1922 following a three-year stay in Germany. Also moving is the humbling experience of having to live by gifts from kind-hearted Germans when the family's money ran out and Germany faced massive inflation.
"Anna was clearly a person that always needed people around her. Her diary describes many visits with friends, and yet there are regular expressions of loneliness. Still, the message that comes through almost daily in the entries is her conviction that God cares and will provide."
This accession report by Jon Isaak (Anna's great-grandson) was first published in the Mennonite Historian 44/4 (Dec. 2018): 7.
The Russian Mennonite Story
Flight: Letters from the Mennonitische Rundschau, 1929/30
In 2012, when Harold Jantz first came to the archives to borrow the bound collection of all the 1929 issues of the weekly magazine Mennonitische Rundschau (or Mennonite Observer in English), I was quite nervous. Why? It is a fragile and very rare collection. But as I learned more of what he had in mind, it seemed like a good risk to take.In fact, the Mennonite Brethren Historical Commission was so impressed with his translation project that it awarded him a project grant in 2015 (see news release at: http://www.mbhistory.org/news.en.html#dec_15_2015).
In this book, aptly called Flight: Mennonites facing the Soviet empire in 1929/30, from the pages of the Mennonitsche Rundschau (Eden Echoes Publishing, 2018), Harold has rehabilitated voices of suffering and longing from the past. How so? Harold translated and summarized all the German letters published in the Rundschau during the years 1929/30.
These letters were submitted and published with the hope that loved ones in North America or in Russia might learn the news of those family members who had emigrated or who had been blocked from emigration by Soviet authorities. The newspaper functioned as a "message board" for Mennonites separated from their loved ones by geographical and political barriers.
These letters—likely allowed by sympathetic Soviet officials—eventually arrived in North America and the recipients turned them over to the Rundschau editor, Herman Neufeld, who edited and published the letters out of his office in Winnipeg, Manitoba. While other newspapers carried news from Russia, the Rundschau carried the largest amount and was read by the largest number of people on both sides of the Atlantic.
Unfortunately, as often happens, a social group that manages to obtain liberation from oppression turns around and becomes a new oppressor. Such was the case following the Bolshevik revolution and civil war. And so it was that the Mennonite settler communities living in Russia got caught in this massive social and economic reversal.
The Soviets were passionate in their quest to remake Russia and the Mennonites were simply on the wrong side of Stalin's grand Five-Year Plan. They were offside for three reasons:
They professed a Christian faith.
They practiced private landownership, even though they shared much in communal villages.
The language of their literature, church life, and cultural preference had remained German in their farming settlements on the Russian steppes; now they were associated with Russia's enemy, Germany.
Many felt they now had little choice other than to emigrate from Russia. However, most did not succeed. Thousands of Mennonite settlers assembled in Moscow, beginning in the summer and through the fall of 1929, requesting permission from Soviet authorities to leave. Some 5,600 German settlers—3,885 of whom were Mennonites—managed to secure exit visas through Germany, but more than 8,000 were refused exit papers and were sent back in hastily assembled boxcar trains to their villages or into exile. Many thousands perished.
Flight makes a huge contribution for three reasons:
Harold uses one the best first-hand public sources for this period of terror and loss, the Mennonitsche Rundschau
Harold puts into English these accounts, which would otherwise be inaccessible, as most North Americans no longer can read German very well.
Harold has created an extensive Index of names, subjects, and places, so as to make this massive 735-page book usable.
Clearly a labour of love—readers with family ties to this era will be especially appreciative of this book, as will anyone interested in human rights, political science, sociology, church history, and Russian history.
Flight sells for $60 and is available through the CommonWord resource center on the campus of Canadian Mennonite University in Winnipeg. More information at: https://www.commonword.ca/ResourceView/2/19795?readmore=1
Written by Jon Isaak, Director of the Centre for Mennonite Brethren Studies, Winnipeg.
Remembering the flight from Oklahoma
Canada 150: On track? or derailed?