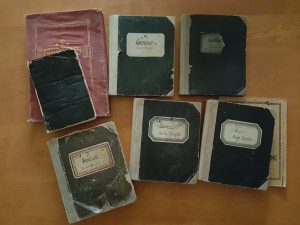 This summer marked a significant accession at CMBS. Hildegard (Peters) Isaak (b. 1933), granddaughter of Anna (Janzen) Neufeld (1868–1945), donated Anna's original diary/journal books to CMBS (Acc. no. 2018-08). See image showing Anna's diary/journal books.
In addition to the donation of the diaries, transcriber and translator Peter Neudorf (b. 1935) of Vancouver donated digital copies of his German transcriptions and English translations of the family letters and Anna's diary/journal books at the same time.
Peter spent about nine years on the transcription/translation project, starting in 2009. Peter's wife Helga (Peters) Neudorf (1937–2017), another of Anna's granddaughters, edited and proofread Peter's translations until Helga's passing. Grandson Helmut Peters (b. 1935) also helped with translation verification. Hedy (Peters) Pletz (b. 1942) is also a granddaughter. The original family letters remain in the possession of the family.
The donated collection at CMBS includes 30 cm of textual materials: 6 diary/journal books, 1 notebook, 1 friendship autograph book, and 744 pages of transcriptions/translations (i.e., English translations of some 70 letters written by Kornelius A. Neufeld (1869–1917) dated from 1890 to 1917, as well as English translations of Anna's diary/journal books dated 1916 and 1919 to 1925). (See the online description at http://cmbs.mennonitebrethren.ca/personal_papers/neufeld-anna-janzen-1868-1945/.)
Through letters and journal entries, the collection documents well the life of a Mennonite factory family as they experience loss due to the Russian Revolution and First World War, emigration from Ukraine, eventual liquidation of their assets, and the challenges of starting life over in a new country.
Anna Janzen was the daughter of industrialist Jacob Wilhelm Janzen (1845–1917) and Helena Unrau (1847–1917). Anna was born in Andreasfeld, Chortitza, on June 23, 1868. She married Kornelius Neufeld on June 26, 1891, in Serjejewka, Fuerstenland. They had eight children, two of whom died in infancy. Kornelius Neufeld was the son of Abram A. Neufeld (1820–1876) and Helena Unrau (1834–1898). Kornelius was born on May 26, 1869, at the Neustaedter Estate, located between Einlage and Ekaterinoslav, where his father Abram worked as a miller. His father died in 1876 of diabetes in Steinfeld Schlactin, a new farming settlement to which they had moved. Their 135-acre farm was sold for 50 rubles and the family sent back to where they had come from. Some years later, in 1889, Kornelius's older brother Herman took him to Serjejewka, Fuerstenland, where Kornelius started to work in the Janzen-Klassen farm implement foundry. In 1891, he married the Janzens' daughter Anna and was eventually promoted to management of the factory. After the Janzen-Klassen partnership broke up, Kornelius and his father-in-law formed a new foundry and machine shop.
About his translations, Peter writes, "I began the translation project with about 70 letters, the first one written by Kornelius in 1890 to his brother Herman in Nikolayevka. Starting in 1916, his wife, Anna Janzen, kept a diary, writing almost daily. She produced eight journal books in total; two were destroyed. For the first diary (321 pages) and the letters, I transcribed the text from Gothic script to English script and then translated the transcription into English. Eventually, I translated directly from Gothic to English. I started the project in 2009 and sent the first letter translations for the family—Helga's siblings—to read on December 28, 2009, and the last one on August 11, 2018.
"Having been a technician with IBM for over 30 years, the word can't was rarely in my vocabulary. On occasion, I would spend up to three days on a particularly difficult word, that is, a couple of hours a day, and then I typically came up with an English translation. Some Ukrainian words I could not transpose and I left them as Ukrainian. I want to give credit to my wife, who, as long as she was able, proofread and corrected my grammar. I thank Helmut Peters, her brother, for taking over after her passing.
"Anna's diary accounts give evidence of enjoying incredible wealth and then of experiencing the total loss of everything following the Russian Revolution. There is the narration of her husband's appendicitis operations and ultimate death in 1917. The family, minus father, managed to flee to Germany on November 23, 1918, from their large home on the factory compound, travelling by train with the retreating German soldiers following the end of the First World War. Then there is her daughter's death—also of appendicitis—after needing to be left in Halifax as they immigrated to Canada in January 1922 following a three-year stay in Germany. Also moving is the humbling experience of having to live by gifts from kind-hearted Germans when the family's money ran out and Germany faced massive inflation.
"Anna was clearly a person that always needed people around her. Her diary describes many visits with friends, and yet there are regular expressions of loneliness. Still, the message that comes through almost daily in the entries is her conviction that God cares and will provide."
This accession report by Jon Isaak (Anna's great-grandson) was first published in the Mennonite Historian 44/4 (Dec. 2018): 7.