← Back to Worship Resources
Fruit of the Spirit
Description
Here are some worship resources related to the "fruit of the Spirit."
Scripture
Matthew 7:15-20
Galatians 5:16-26
Philippians 1:6-11

Prayers
Prayer
Dear Father, grower of spiritual fruit,
Let the fruit of the Spirit blossom, mature, and ripen in my life:
love, joy, peace, patience, kindness, goodness,
faithfulness, gentleness, and self-control.
There is no law against these.
Let me possess them!
Since I belong to Christ,
I have crucified the flesh with its passions and desires.
Let me live by the Spirit.
Let me walk by the Spirit!
Let me show no self-conceit,
give no provocation,
have no envy toward anyone else.
Let me live in, through, and for Christ Jesus,
as he lives in, through, and for me and his whole church.
In the name of Jesus I ask you to perfect us,
whatever that may take,
and give us the grace to endure your renovation process.
Amen.
~ posted on the Heartlight website. http://www.heartlight.org/cgi-shl/praying_paul/pwp.pl?190
Prayer
O Bounteous Spirit,
I ask you to bring forth in my life your fruits:
the fruit of love,
so I may love you above all things and all others for your sake;
the fruit of joy,
that I may find my delight in your service;
the fruit of peace,
that I may be pardoned through your mercy and may rest in your love;
the fruit of longsuffering
so that I may bear, with patience, all afflictions;
the fruit of gentleness,
that I may subdue all anger and take calmly and sweetly
all trials and provocations;
the fruit of meekness,
that I may forgive freely all who have hurt me
and endure with patience all burdens that are laid upon me;
the fruit of temperance
that I may restrain all my desires
and bring them into the subjection of your holy will.
Amen.
~ posted on Spread Jesus website. http://www.spreadjesus.org/prayer-for-the-fruits-of-the-spirit.html#.UbeKq-fVCSo
Prayer of Intercession
Lord our God,
we Your people come to You this day
fully aware that we need your presence and your help in our lives,
yet aware as well that we often fail to stop and to turn to you for that help.
We get caught up in the troubles and the turmoil of daily living—
we become busy with the goals that we have set for ourselves
and those that come to us from our work and our families and our friends.
We strive to be loving,
we seek joy and peace,
we desire to be gentle and patient and kind,
to show goodness, and to have self-control—
and yet these things all too often elude us.
Help us, Lord, to root ourselves more deeply in you;
to seek your will for our lives;
to stop and to listen for your voice when we are troubled;
to fully rely on you  when we strive to do what is right;
to remember you and trust in you when we are assaulted;
to meditate on your goodness and your gracious will when we begin each day—
so that like trees by a stream which send down their roots to the water,
we may produce by your power the fruit of your Spirit.
Lord, hear our prayer.
Gracious God,
we remember the concerns and prayers
that have been lifted up this past week
by members of this congregation and our community—
concerns and prayers that we now pray for with them:
For all those who are lonely, fearful or in pain;
for those who struggling with addictions and dependencies
that cripple their living and harm the world about them...
Lord, hear our prayer...
We pray too, O Lord,
for those who come fresh to our minds and hearts this day:
perhaps a family member we have prayed for over many weeks or years,
or a friend who is struggling to find meaning in his life,
an acquaintance who needs healing,
a stranger who needs the comfort of your Spirit as they grieve.
Lord, hear now your people as they pray
and name those names, those concerns, before you.
Lord, hear our prayer...
Thank you, Lord, for being our God and making us your people.
Thank you for growing in us and for helping us to grow.
Thank you for the ministry you entrust to us.
May your will be done in us and by us,
both now and forevermore.
Amen.
~ from the Kir-shalom website. http://www.rockies.net/~spirit/sermons/c-or13su.php
Spoken Resources
Benediction
May God, who began a good work in you,
continue to be at work in your life,
guiding, teaching and equipping you
until Jesus Christ returns.
May your love and compassion continue to grow—
a love that is full of knowledge and wise insight,
so that you will be able to recognize what really matters,
and live a pure and blameless life.
May you live a life centered in the Holy Spirit,
a life that bears rich fruit –
love, joy, peace, patience, kindness,
generosity, faithfulness, tolerance and self-control –
all the good things that come from following the Spirit,
for living this way will bring much glory and praise to God.
~ Christine Longhurst
Songs
Contemporary Hymn: For Freedom, Christ Has Set Us Free
"For freedom, Christ has set us free!"
What joy is ours to claim!
No more enslaved, humanity
Finds life in Jesus' name.
We try, Lord, to be justified
Through all the works we do.
Yet you adopt us, saying, "Child,
It's Christ who makes you new."
We're clothed in Christ and we belong;
Now no one waits outside.
In him we find our common song;
Old ways no more divide.
"It is no longer I who live,
But Christ who lives in me."
He died for us, new life to give —
And new identity.
Now, Spirit-filled, may we be led
From ways that would destroy.
May we your people turn instead
To lives of love and joy.
May we find peace that makes us whole
And patience everywhere.
God, give us kindness, self-control,
And hearts and hands that share.
~ Words copyright © 2000 Carolyn Winfrey Gillette.  All rights reserved. Email: bcgillette@comcast.net  New Hymns: www.carolynshymns.com/
Tune suggestions:
ELLACOMBE ("I sing the mighty power of God")
Contemporary Hymn: Lord Jesus, We Must Know You
Lord Jesus, we must know you
if we would make you known,
for how can we proclaim you
but by your grace alone?
We long to know your fulness,
your life of risen power,
for you alone can answer
the challenge of this hour.
Our broken world is seeking
what only you can give;
our words may go unheeded,
but not the way we live.
O Savior, live within us
your life so strong, so true,
that others, touched with wonder,
may seek and worship you!
Lord Jesus, by your Spirit
renew your Church, we pray,
till what we are makes valid
the truth of what we say.
So truly may we know you,
so make your life our own,
that we become so like you
our lives must make you known.
~ Margaret Clarkson. Copyright © 1987 Hope Publishing Company. If you use this song in worship, be sure to report it on your CCLI license.
Tune suggestions:
ANGEL'S STOY ("O Jesus, I Have Promised")
ST. THEODULPH ("All Glory, Laud and Honour")
Contemporary Song: Fruit of the Spirit
Just like a tasty banana, apple or pear
Our hearts bear good fruit
When His Spirit lives there
I'm talking about
Love joy peace patience
Kindness goodness faithfulness
Gentleness and self-control
We need to be filled with the Spirit
To walk in the Spirit
Be led by the Spirit of God
We need to be filled with the Spirit
To walk in the Spirit
Be let by the Spirit of God
Say love (love)
Say joy (joy)
Say peace (peace)
Say patience (patience)
Say kindness (kindness)
Say goodness (goodness)
Say faithfulness (faithfulness)
Gentleness and self-control
~ Terry Butler. Copyright © 2001 Mercy / Vineyard Publishing (Admin. by Music Services).  CCLI Song #3375363.  If you use this song in worship, be sure to report it on your CCLI license.
Listen to it here: https://ca.songselect.com/songs/3375363/fruit-of-the-spirit/viewlyrics
Images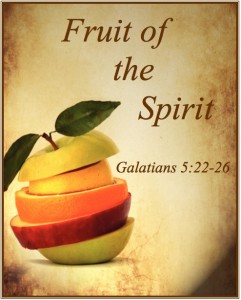 Notes
This worship resource was created/compiled by Christine Longhurst. You are welcome to use it free of charge, and where appropriate, please note the source. If you are printing any of the resources for distribution, please print the source as well. The content of the worship resource does not necessarily represent the views of the Canadian Conference of Mennonite Brethren Churches, which oversees the Centre for Mennonite Brethren Studies. For more worship resources by Christine Longhurst, see http://www.re-worship.blogspot.ca or http://www.faithmatters.ca.
← Back to Worship Resources