← Back to Worship Resources
Annointing of Jesus, The
Description
Here are worship resources inspired by the anointing of Jesus with expensive perfume.
Scripture
Matthew 26:6-13
Mark 14:3-9
Luke 7:36-50
John 12:2-8

Prayers
Prayer
Giver of the most expensive gift of all, help us to learn from you.
May we who are so adept at catering for our own wants,
make ourselves more vulnerable to the needs of others.
Let us live unselfishly and more sensitively, that we may spread love's fragrance wherever the odour cynicism and despair hangs in the air.
Through Jesus Christ, our Saviour.
Amen!
~ written by Bruce Prewer, and posted on Bruce Prewer's Home Page.
http://www.bruceprewer.com/
Prayer of Confession
Six days before the Passover, Jesus came to the home of Lazarus
and received hospitality like no one had seen before –
generous, loving, whole-hearted, and even a little bit undignified.
His disciple Judas could only see the inefficiency of the gift,
not the spirit of loving-kindness with which it was offered.
We, like Judas, often want to expedite our giving
without really engaging with those we are called to serve.
Let us consider the depth of our relationships with those we encounter
and with the One who calls us to faith,
as we confess our sin in silence.
[pause for silence]
We confess, Anointed One, that we excuse ourselves
from reaching out to those who need your care.
We take your words – that there will always be unmet needs –
as a reason not to try to meet the needs we can.
Forgive us, and help us to change.
Renew our determination to live
as faithful followers, faithful disciples, faithful Christians.
Help us to work with you for the well-being of your creation,
that the fortunes of all your peoples may be restored.
Amen.
We, too, are a part of the Way-Maker's will for restoration.
We are called, through Christ Jesus, to strive for restoration,
but we are not called to do this work alone.
The One who has made a way in the wilderness, and rivers in the desert,
will surely equip us for all we are asked to do in Christ's name.
God will empower us to attain all the potential God has placed within us.
Thanks be to God!
~ posted on the United Church of Christ's Worship Ways Archive.
http://www.ucc.org/
Pastoral Prayer
Lord of love and light,
shine into our lives and bring your love into our souls.
Remind us of the amazing ways you have loved us,
even when we turned our backs on you.
Open our hearts to receive your loving spirit.
Open our minds to receive your wisdom.
Open our hands to show others your loving compassion.
Lord of love and light,
we hold in our hearts those around us who feel unloved.
We bring them to you for you to shine your love into their lives.
We hold in our minds those who overwhelmed by their needs and difficulties.
We hold in our hands your loving compassion to give them.
Lord of love and light,
there are people and places that are dark
and in the dark about your love.
Shine forth your light and love in their lives and in those places.
There are people and places that have closed their minds to you,
to others, to new and fresh ideas.
Shine forth your light and love to open their minds to you,
to others, to new and fresh ideas.
There are people and places that need our hands
reaching out to them with your loving compassion.
May our reaching out to them with your love and compassion,
shine forth your light and love.
Amen.
~ written by Rev Abi, and posted on Rev Abi's Long and Winding Road blog.
http://vicarofwadley.blogspot.ca/
because
because
we have preserved our joy
in manna jars
for the long winter of despair,
storing them in the dark corners
of our souls,
we have forgotten
its gritty taste;
because
we have put a tight lid
on our joy,
and put it in the back
of the pantry,
we have forgotten
how it can tickle
our noses;
because
we are so busy
prattling pious platitudes
about the poor, the least, the lost,
we ignore your words
which anoint them
as your children;
because
we have put up
the shutters and storm doors
to keep your future
from sneaking in,
we have missed
the sweet breeze
carrying your hope
to us;
because
we are who we are,
restore us, Holy Grace,
and make us
a fragrant offering
to the world.
~ Copyright © Thom M. Shuman. Posted on Prayers4Today.
http://prayersfortoday.blogspot.ca/
Spoken Resources
Blessing of Balm
When we see
the body of Christ
still broken in this world,
may we meet it
with lavish grace
and pour ourselves out
with extravagant love.
~ written by Jan L. Richardson, and posted on The Painted Prayerbook.
http://paintedprayerbook.com/
Songs
Contemporary Hymn: The Church of Christ, in Every Age
Worship Together #655
The Church of Christ in every age
Beset by change but Spirit led,
Must claim and test its heritage
And keep on rising from the dead.
Across the world, across the street,
The victims of injustice cry
For shelter and for bread to eat,
And never live until they die.
Then let the servant Church arise,
A caring Church that longs to be
A partner in Christ's sacrifice,
And clothed in Christ's humanity.
For he alone, whose blood was shed,
Can cure the fever in our blood,
And teach us how to share our bread
And feed the starving multitude.
We have no mission but to serve
In full obedience to our Lord:
To care for all, without reserve,
And to spread his liberating Word.
~ Fred Pratt Green. Copyright © 1971 Hope Publishing Company. If you use this song in worship, be sure to report it on your CCLI license.
Tune suggestions:
SO LANGE JESUS ("The Lord is King, O praise his name")
CANONBURY ("Lord speak to me, that I may speak")
Listen to it here: http://www.hymnary.org/tune/canonbury_schumann
Contemporary Hymn: Lord, Whose Love Through Humble Service
Worship Together #202
Lord, whose love through humble service
bore the weight of human need,
who upon the cross, forsaken,
offered mercy's perfect deed;
we, you servants,
bring the worship not of voice alone,
but hear, consecrating
to your purpose ever gift that you impart.
Still your children wander homeless;
still the hungry cry for bread;
still the captives long for freedom;
still in grief we mourn our dead.
As, O Lord, your deep compassion
healed the sick and freed the soul,
use the love your Spirit kindles
still to save and make us whole.
As we worship, grand us vision,
till your love's revealing light
in its height and depth and greatness,
dawns upon our quickened sight,
making known the needs and burdens
your compassion bids us bear,
stirring us to tireless striving,
your abundant life to share.
Called by worship to your service,
forth in your dear name we go,
to the child, the youth the aged,
love in living deeds to show;
hope and health, good will and comfort,
counsel, aid, and peace we give,
that your servants, Lord,
in freedom may your mercy know and live.
~ Albert Bayly. Words copyright © 1988 Oxford University Press.
Tune suggestion:
HYFRYDOL ("Jesus, what a friend for sinners")
Contemporary Song: Kingdom and a King
My heart is beating faster in my chest
As I sing of where my loyalties will rest
To never wait on the governments to move
As the broken and the poor cry out for You
For the kingdom and the King
For His glory we will sing
For the rescue of our souls
He has come
For the kingdom and the cross
Oh the triumph and the loss
Love has broken through and now redeemed
(For the kingdom and the King)
O God may we be focused on the least
A people balancing the fasting and the feast
A call to give and to serve and celebrate
For You are great O my God You are great
So our prayer's to know
And love You above all
May we be the ends
To love them we are called
And our hope is not in this land
Oh not in these walls
Not in these things
And we rest
Oh knowing Your love has called us to move
Called us to sing sing sing
And the people will sing
They will sing sing
Oh the people will sing
For the King
For the King
~ Jason Ingram, Robbie Seay. Copyright © 2010 Birdwing Music (a div. of EMI Christian Music Publishing), Sony/ATV Timber Publishing (Admin. by Sony/ATV Sounds LLC), Windsor Hill Music (Admin. by Sony/ATV Sounds LLC), West Main Music (Admin. by Sony/ATV Sounds LLC). CCLI Song # 5674093. If you use this song in worship, be sure to report it on your CCLI license.
Listen to it here:
http://www.worshiptogether.com/songs/songdetail.aspx?iid=1794545
Contemporary Song: Dancing Generation
Your mercy taught us how to dance
To celebrate with all we have
And we'll dance to thank You for mercy
Your glory taught us how to shout
We'll lift Your name in all the earth
And we'll shout to the praise of Your glory
It's the overflow of a forgiven soul
And now we've seen You, God
Our hearts cannot stay silent
And we'll be a dancing generation
Dancing because of Your great mercy, Lord
Your great mercy, Lord
And we'll be a shouting generation
Shouting because of Your great glory, Lord
Your great glory, Lord
~ Matt Redman. Copyright © 2004 Thankyou Music/PRS (adm. worldwide by worshiptogether.com Songs except for the UK and Europe which is adm. by Kingsway Music). CCLI Song #4329428. If you use this song in worship, be sure to report it on your CCLI license.
Listen to it here:
http://www.worshiptogether.com/songs/songdetail.aspx?iid=563793
Images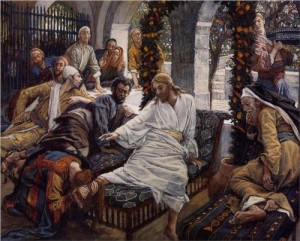 ~ Mary Magdalene's Box of Very Precious Ointment, James Tissot 1886
Notes
This worship resource was created/compiled by Christine Longhurst. You are welcome to use it free of charge, and where appropriate, please note the source. If you are printing any of the resources for distribution, please print the source as well. The content of the worship resource does not necessarily represent the views of the Canadian Conference of Mennonite Brethren Churches, which oversees the Centre for Mennonite Brethren Studies. For more worship resources by Christine Longhurst, see http://www.re-worship.blogspot.ca or http://www.faithmatters.ca.
← Back to Worship Resources