← Back to Institutional Records
Woodrow Gospel Chapel – Woodrow, SK
Proper Title
Woodrow Gospel Chapel fonds
Dates of Creation
1978–1986, 2017
Physical Description
3 cm
Administrative History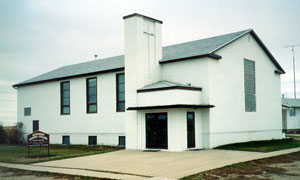 The Woodrow Gospel Church is located in Woodrow, SK. It began services in 1909 and formally organized with 28 members in 1910. The first building was built in 1916. The congregation originates from emigration from North Dakota. The church was first known as Hoffnungsfeld and later as Woodrow Mennonite Brethren Church.
Church membership in 2000 was 55, and 46 in 2010.
The leaders of the congregation prior to 1960 were John Ollenberger, Ludwig Seibel, E.J. Lautermilch, and Samuel Sutter. Leadership from the 1970s forward includes Ralph Gliege (1978–1986), Randy Chase (1997–2005), Ross Kennedy (2006–2007), Richard Hovey (2010–2012), Rick Hawreschuk (2013– ).
The language of worship is English. The transition from German happened in the 1930s.
(Information from GAMEO)
Scope and Content
The fonds consists church bulletins and a baptism record.
Notes
Volume 492
No restrictions on access
Updated by Emma Sorensen June 2018.
File List
Volume 492
6. New member photos. -- 2017.
9. Church bulletins from the period when Ralph Gliege was minister. Assorted. -- 1978–1986.
12. The History of the Woodrow Mennonite Brethren Church, 1910–1985. 65th anniversary book. 135 pages. -- 1985.
← Back to Institutional Records