← Back to Institutional Records
Willow Park Church – Kelowna, BC
Proper Title
Willow Park Church fonds
Dates of Creation
1943–2001
Physical Description
2 cm of textual records and 1 photo
Administrative History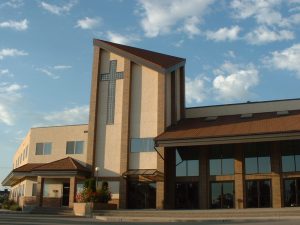 Willow Park Church in Kelowna, British Columbia, started in 1947 by Mennonite immigrants who had come from the Soviet Union after the Second World War. They had been worshipping with the Grace Baptist Church. The Mennonites elected a temporary leadership team for their Sunday meetings. The 32 members organized the Kelowna Mennonite Brethren Church. Rev. John Unger was confirmed as leader, Peter Janzen as assistant leader and Sunday school superintendent, Cornelius Janzen as treasurer, Aaron Willms as Missions treasurer, and Abram Schellenberg as secretary.
Services for this new church were initially held in the home of Herman Goertzen and later in rented halls in the city. By 1947, a church building was under construction with volunteer help. By January 18, 1948, services began in the basement and by 1963 the switch from German services to English worship services had taken place.
In 1966, a new building was built to seat over 430 people and provide needed educational space. In 1985, a new church known as Project Willow Park was undertaken and was ready for occupancy in October 1988. With the move to a new location came the new name of Willow Park Church.
The church continued to grow. The church responded with two morning services starting in 1992 and started a church plant in the Glenmore area in 1995 known as the Garden Valley Community Church.
Membership at the church in 1950 stood at 63 members; in 1965, it was 120; in 1975, it was 195; in 1985, it was 260; in 1993, it was 376; in 2000, it was 488; in 2005, it was 782; in 2010, it was 1,030; and 2016, it was 1,062.
Leading ministers of the congregation include John J. Unger (1947–1953), John J. Wiebe, (1953–1956), Abe Sawatsky (1956–1962), Ed J. Lautermilch (1962–1966), John D. Stoesz (1966–1973), Ed Wiebe (1974–1979), Jake H. Quiring (interim 1980), Lloyd Pankratz (1981–1982), Herb J. Brandt (1984–1988), Ed Boschman (1989–1995), Mark Burch (1997–2008), Arnie Peters (interim 2008–2010), Phil Collins (2010– ).
Scope and Content
This fonds consists of a historical sketch, 50th anniversary historical reflection booklet, bulletins and newsletters.
Custodial History
It is unclear when the textual materials came to the archives. The historical sketch was provided to the archives in 1985.
Notes
Location: Volume 369.
Description by Conrad Stoesz, February 5, 2007.
No restrictions on access.
Finding aid consist of a file list.
File List
Volume 369
1. Historical Sketch. -- 1943–1985.
2. 50th Anniversary Historical Reflections. -- 1943–1997.
3. Bulletins and Newsletters. -- 1991–1993.
4. Bulletins and Newsletters. -- 1994.
5. Bulletins and Newsletters. -- 1996.
6. Bulletins and Newsletters. -- 1997.
7. Newsletters. -- 1998.
8. Newsletters. -- 1999–2001.
← Back to Institutional Records