← Back to Institutional Records
Saanich Community Church – Victoria, BC
Proper Title
Saanich Community Church fonds
Dates of Creation
1967–1993
Physical Description
1 mm of textual records and 1 microfilm reel
Administrative History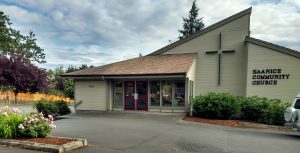 The Saanich Community Church in Victoria, British Columbia, was started in 1968 through mission work of the B.C. Conference of Mennonite Brethren Churches and Mennonite migration into the area. John and Evelyn Baerg were sent by the Conference's Church extension program in 1968 and were helped by George and Carol Braun in 1970.
In 1971, a charter was signed with 18 charter members officially founding the congregation. It became a member of the Mennonite Brethren family of Conferences in 1973.
For the next few years, they met in homes and community centres. In 1975, they purchased a facility, and the Brauns were appointed full-time pastor couple and they remained pastor couple of the church until 1979.
Membership was 30 in 1975, 52 in 2000, and 65 in 2019.
Ministers who have led the congregation include: John Baerg (1968–1970), George Braun (1970–1979), Paul Unger (1979–1984), Leslie Biggs (1984–1990), Doug Enns (1990–1999), Marvin Schmidt, interim pastor (2000–2001), David Eagle (2002–2008), Kathleen Busch, associate pastor (2008–2010), Ken Peters (2010– ).
Scope and Content
This fonds consists of history, a bulletin, and congregational meeting minutes.
Custodial History
It is unclear when this material came to the archives. The microfilmed material came to the archives through a conference-wide microfilming program in ca. 1978 lead by J.B. Toews.
Notes
Location: Volume 387, microfilm 69.
Description by Shauna Hudson, June 10, 2004. Edited by Sheralyn Heinrichs, August 17, 2005 and Conrad Stoesz, January 23, 2007.
Finding aid consists of a file list.
No restrictions on access.
File List
Volume 387
1. History. -- 1967–1985.
2. Bulletin. -- 1993.
Microfilm file list
Reel 69
Congregational Meeting Minutes. Oct 1971–Jun 1978. pp 1333–1411.
← Back to Institutional Records