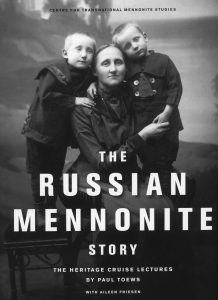 Released in April 2018, The Russian Mennonite Story: The Heritage Cruise Lectures is a book documenting Prof. Paul Toews's long-standing contribution to understanding better the Mennonite experience in Russia. Toews was well known for guiding Mennonite Heritage cruises to Ukraine before his passing in 2015. Dr. Aileen Friesen edited Paul's cruise lectures for the book. CMBS was responsible for making high-resolution scans of over 40 photographs from its photographic collection for reproduction in this book. The book sells for $39 and is available at https://www.therussianmennonitestory.com/.
Below is a book review written by Peter Epp, Canadian Mennonite University, Winnipeg.
In The Russian Mennonite Story: The Heritage Cruise Lectures, Dr. Paul Toews's three Heritage Cruise lectures are set alongside vivid photographs of Mennonite life—past and present—in Russia (now Ukraine).
While the book is surely welcomed by former Heritage Cruise members for providing a reminder of their tour—Toews gave the lectures during the 16 years he accompanied the Mennonite Heritage Cruise (1995–2010) down the Dnieper River into the heart of the former Mennonite homeland—its impact will extend much farther. Its bold use of large, stunningly (sometimes shockingly) high resolution photographs allows it to serve as a virtual tour for those who have never taken the tour.
Toews never had a chance to finish or publish his lectures—he died in 2015. However, Dr. Aileen Friesen agreed to edit, complete, and gather photographs for the production of a published version of Toews's lectures. The result is a well-organized, easy-to-follow presentation. The Russian Mennonite Story is a worthy addition to the growing catalogue of introductory Russian Mennonite history books that serve those who want pass their story on, quickly review it, or discover it for the first time.
Toews's three lectures mostly proceed in chronological order, with each section adding another layer of interpretation. The first lecture, "Power and Promise," describes the arrival and pre-First World War life of Russian Mennonites, emphasizing their relatively rapid rise to economic success and cultural confidence. Here, Toews asserts that traditional assumptions of Mennonite simplicity are themselves too simple. Rather, Mennonites were "emulat[ing]…the industrial elites of Western Europe and America" quite successfully (34).
The second lecture, "Pathos and Tragedy," describes the horrors that followed the First World War, as Mennonites suffered through that war, the Bolshevik Revolution, the resulting civil war, and Soviet oppression. Toews uses the lecture's title to explain how contemporary Mennonites might understand this part of their story. On the one hand, their suffering was the result of them being victims to an external pathos, which Toews asserts to be a kind of madness that overtook the understandable goals of the early revolution. On the other hand, their suffering was the result of Mennonites' tragic choices—hard decisions that Toews suggests were "the lesser of two evils" or had hidden consequences—that can be both pitied and admired (64).
The third lecture, "Paradox and Irony," provides a concluding interpretation of the first two lectures and subsequent events. Here, Toews asserts that the Russian Mennonite experience can be understood through the lenses of paradox and irony: a move to Russia for preservation produced radical innovation, a German identity that provided stability later led to displacement, a search for permanence later produced exile, significant Mennonite innovations eventually "drew attention to…'foreignness'" (77), and an attempt to preserve a free church led to a Privilegium that produced something of a Volkskirche (people's church). To conclude, Toews suggests that the most significant irony is one of Mennonite resilience: the Soviet attempt to "consign [Mennonites] to the ash of history" has recently given way to a reclamation of the Mennonite story by Mennonites and non-Mennonite Ukrainians.
Finally, Aileen Friesen (who also provides a preface) completes the book with a necessary conclusion of her own, carefully suggesting that Toews's narrative, while foundational, will benefit from the natural historiographical process of engaging "fresh approaches and challenge[s]." Friesen outlines many of these, including the need for more social history, which could tell us more about Mennonite women, everyday lives, and Mennonites' connections to non-Mennonite neighbours. She also notes that Toews's narrative will benefit from further research on Russian Mennonite colonialism and class, research that challenges the traditional Mennonite narrative. Toews's interpretive use of pathos and tragedy limits a more complete understanding of Mennonite accountability and the portrayal of current Mennonite humanitarian aid and Ukrainian attitudes towards Mennonites reflect a somewhat colonial tone.
Overall, however, The Russian Mennonite Story is not designed for nuanced historical debate, but to capture one of the foundational ways Mennonites came to tell this part of their story as they began to fully engage it. It does this eloquently and beautifully. Preserving this crucial, accessible piece of Toews's work is a gift for generations to come.
This Book Review was first published in the Mennonite Historian 44/3 (Sept. 2018): 12.